Be Bold Speaker Series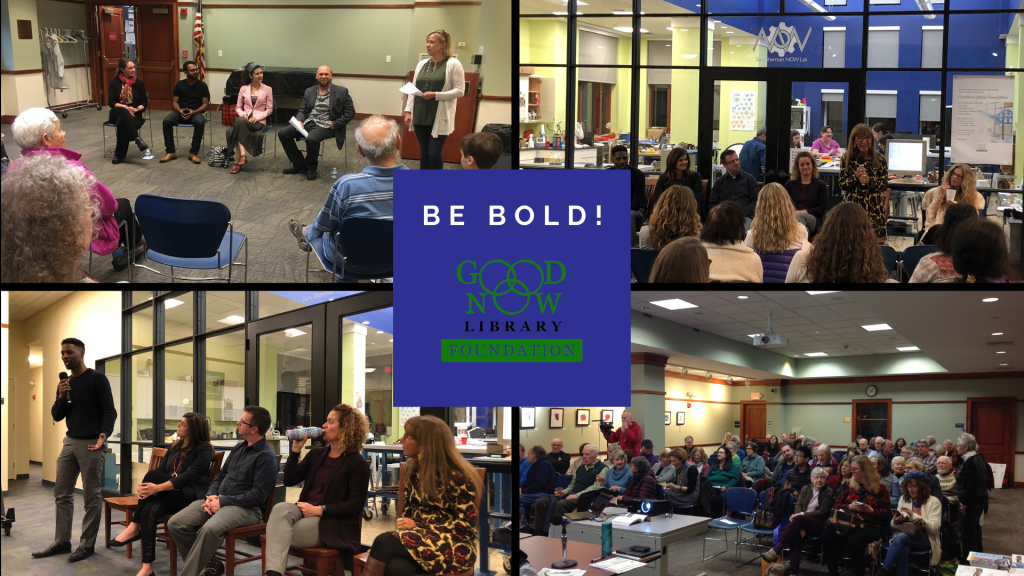 The Goodnow Library Foundation launched its popular Be Bold Speaker Series in 2017. The aim of these evenings is to educate and connect members of our community through sharing viewpoints and discussion. Since then, the GLF has coordinated 10 events featuring approximately 20 speakers and bringing in approximately 500 audience members. The GLF's goal in starting this series has always been to showcase our community.
Since 2017, the GLF has offered the following Be Bold programs:
SEPTEMBER 11, 2017  RE-ENTERING THE WORKFORCE
Sharon Kan, CEO & co-founder of Pepperlane
Samantha Karustis, Asst. Principal, Cyrus E. Dallin Elementary
Katelyn Klapper, CEO of College Options
Marybeth Madigan, founder of MB, Ink
Bonnie Morrissey, founder of Bonnie's Bootcamp
Kim Urquhart, owner Laurel Grove
JANUARY 9, 2018  INSPIRING INNOVATORS
Stephen Brackett, Downeast Holdings, LLC
Jeff Bell, Sterilis, LLC
Kevin ten Brink, KT2 Design Group
Rob Kornblum, Coach & Author
Mike Trioano, G20 Ventures
MAY 11, 2018  BE MINDFUL: MINDFUL LIVING FOR BUSY PEOPLE
Marilyn Taylor, Life Coach
Cynthia Gramer, Spiritual Advisor
MAY 22, 2018  BE MINDFUL: MINDFUL LIVING FOR BUSY PEOPLE
Lisa Campbell, Sohum Yoga and Meditation
Yana Bloomstein, Wellness Walks
Eric Bloomstein, Special Education Expert
Samela St. Pierre, Artist/ Yoga Teacher
Pat St. Pierre, Artist
OCTOBER 23, 2018  BE BOLD: TELLING YOUR STORY
Ruth-Anne Adams, Chef & Restauranteur
Jill Dixon, President, Taly
Jen Maseda, Founder, Metrowest Conference for Women
Liz Sower, Creator, Ghost in the Burbs podcast
Kerri Tabasky, Writer & Public Speaker, COO, Boston Podcast
Amanda Walters, Realtor @ Coldwell Banker
JANUARY 8, 2019  BE BOLD: ART & SCIENCE
Michele Clamp, PhD: Artist & Scientist; Co-Founder, witnix & Michele Clamp Art
Kim Kanki, PhD: Operations Manager, Global Clinical Biomarkers & Companion Diagnostics, EMD Serono
Yvette Monstad: Babacool Arts
Elizabeth Moy: Founder, Blueprint Projects
Ruchi Newman, PhD: Research Specialist, The Ragon Institute of MGH, MIT & Harvard
Renata Pomponi, PhD: Sanctuary Director, Mass Audubon's Drumlin Farm Wildlife Sanctuary
Wendy Puryear, PhD: Senior Research Associate, Cummings Veterinary School at Tufts University
Janice Corkin Rudolf: Sculptor
Jeanne Rosier Smith: Artist, National Workshop Instructor & Owner, Jeanne Rosier Smith Pastel Studio
** You may view a recording of this event HERE. **
MARCH 12, 2019  BEING BOLD OUTSIDE THE BOX
Kristen Flynn: Technical Product Associate, Atrium Innovations Inc.
Helen LeMoine: Executive Director, Leadership MetroWest
Karen Morales:Founder, Marketing Magnet
Giulietta "Julie" Nardone: Writer, Painter, Untrainer
Brandale Randolph: Founder and Owner, 1854 Cycling Company
Brendyn Schneider: Professional Storyspinner & Job Search Workshop Instructor
** You may view a recording of this event HERE. **
SEPTEMBER 17, 2019  BOLDLY PARENTING TODAY
Christina Granahan, PCC, LICSW
Drew Carter, Holy Cross
Jen Gabel, ABRHS
Beth Rodgers-Kay, Brandeis
Andrew Shen, RJ Grey JHS
Dan Schuler, LSRHS
JANUARY 14, 2020  BE BOLD: A COMMUNITY CONVERSATION ON CLIMATE CHANGE
Alexandra Vecchio: Climate Change Program Director, Mass Audubon
Rami Alwan: Chair of the Energy and Sustainability Committee, Town of Sudbury
Beth Suedmeyer: Environmental Planner, Planning & Community Development Department, Town of Sudbury
You may find the slides from their presentations linked here:  Alexandra Vecchio and Town of Sudbury
** You may view a recording of this event HERE. **
JANUARY 19, 2021  BE BOLD: GET OUTSIDE, in partnership with Sudbury Valley Trustees

The Goodnow Library Foundation was delighted to partner with Sudbury Valley Trustees for 2021's first Be Bold event on Tuesday, January 19, 2021 at 7 pm via Zoom. Did you ever wonder how our local wildlife are adapted to survive a New England winter? Join Dan Stimson, Assistant Director of Stewardship at Sudbury Valley Trustees, to learn about our local conservation areas and the wildlife that live there. Discover what animals you are likely to see along the trails during winter.
** If you missed this event, you may view the recording HERE. **
FEBRUARY 9, 2021  BE BOLD: GET OUTSIDE, in partnership with Sudbury Valley Trustees, in partnership with Mass Audubon Drumlin Farm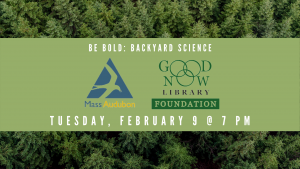 The Goodnow Foundation Library partnered with Mass Audubon for Backyard Science: Expanding outdoor engagement for adults and children through community science.
If you missed this event, you may view the recording HERE
MARCH 2, 2021  BE BOLD, GET OUTSIDE, GROW FOOD!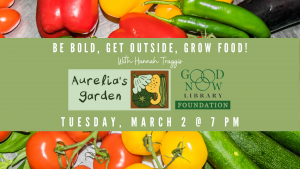 On March 2, we were happy to host the next event in our Be Bold "Get Outdoors" series:
Be Bold, Get Outside, Grow Food! with Hannah Traggis.
This program featured Hannah Traggis from
Aurelia's Garden
, a nonprofit food pantry garden in Wayland. Aurelia's Garden was founded with the mission of volunteers growing fresh and nutritious produce to address local food insecurity.
Have you ever considered starting your own food garden? In this workshop we will cover the basics of starting a garden in general, with specific considerations for growing all types of food plants. Topics covered will include selecting a site for success, soil preparation demystified, plant specific requirements, planting and maintaining the garden, and harvest techniques that will keep your plants producing food through the fall. Attendees are encouraged to ask questions throughout the presentation.
Hannah Traggis is the Vice President of Aurelia's Garden Inc. and principal scientist for the Freed Seed Federation. She is also the Horticultural Manager for Terrascapes Landscape Design's Fine Gardening division and served as Senior Horticulturist for the Massachusetts Horticultural Society for 5 years.
** If you missed this event, you may view the recording HERE. **