Contactless Holds FAQs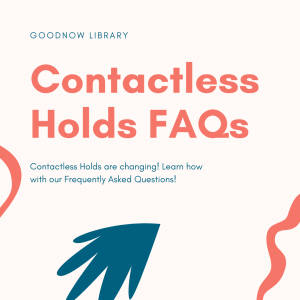 Beginning on June 1, the library will extend its open hours and its services. Along with these changes, Contactless Pick Up will also be different.
We know that many of you will return to picking up your items in person, so we are discontinuing our online appointment system. Starting on June 1, Contactless Pick Up will be on a same-day, call-in basis.
Q: How do I request contactless pick up?
A: On the day you wish to pick up your holds, call 978-440-5530. The staff will retrieve, check out and bag your materials, and they will be put out on a cart or a rack near the main door.
Q: If I'm coming inside the library to pick up my holds, do I need to make an appointment?
A: No, just come in and visit our holds shelves. These items will not be checked out to you in advance, so be sure to visit our Self-Check machines or Circulation Desk.
Categories: Uncategorized