Children's Summer Reading 2018!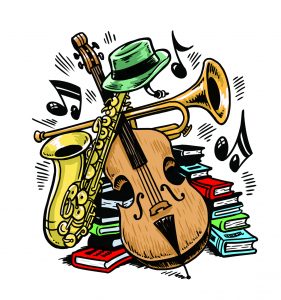 An exciting summer of reading is in store for children at the Goodnow Library!  All kids from birth through rising 5th graders are invited to participate in the library's summer reading program. One of the most effective ways to improve reading skills is to read regularly and often, and research has show the benefits of greater academic  achievement!  Stop by the children's room to sign up and receive your summer reading materials: reading log, reading challenge, bookmark, and sticker! Sign up for summer reading anytime between Friday, June 22nd and Thursday, August 9th!
When a child signs up, they will receive a necklace and keychain that will be decorated with different beads based on how many minutes a child reads. Beads get cooler the more you read – earn sparkly, sport, glow-in-the-dark, or a guitar bead created with the library's 3D printer! Children who finish an entire reading log will not only get to keep their necklace or keychain, but they will also get to pick a prize from our prize box. In addition, each child who participates in this year's program will be invited to our Reading Champions Celebration with FREE ICE CREAM!
 Weekly and Special Programs
 Goodnow Library Children's Room is also offering a variety of programs this summer, including Truck Day and Stuffed Animal Sleepover! To see details about our Summer Programs, check out the Children's Calendar!
Book Suggestions
There are lots of great books to read or listen to this summer! The Children's Library staff recommends checking out the following books list for suggestions, or come in the library and talk to a staff member for a personal recommendation!
Massachusetts Children's Book Award Books 2019
The Association for Library Services to Children Summer Reading Lists
Goodnow Library Summer Staff Picks 2018 Grades K-2
Goodnow Library Summer Staff Picks 2018 Grades 3-6
Summer Reading for Adults and Teens
Adults can find more information about adult summer reading at the reference desk or by clicking HERE.  Teens (rising 6th through rising 9th graders), can find out more about summer reading in the teen room or by clicking HERE. Robert, Teen Librarian Extraordinaire, is offering programs to keep teens busy all summer. Check out details on the Teen Calendar.