Meet your Children's Librarians
Amy Stimac, Assistant Head of the Children's Department
A native of Columbus, Ohio, Amy earned her BA from Wellesley College and received a Masters in Library Science degree from Simmons College. Before coming to Goodnow in May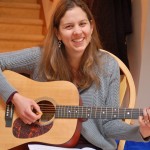 2012, Amy worked in a variety of library positions throughout the Boston area, most recently at the Acton Memorial Library. As Assistant Head of the Children's department, Amy runs the lively baby story time, Wee Reads, and plays her guitar for the weekly Music Makers sing-a-long program. Away from the library, Amy enjoys reading (of course!), playing the piano, flute and guitar, skiing, cooking, gardening, and playing with daughter Emily (12) and son Ben (9), plus spending time with her husband Andrew. She looks forward to welcoming you to the Goodnow Library Children's Department!
Megan Statza Warren, Head of the Children's Department
Originally from Menomonee Falls, Wisconsin, Megan attended Valparaiso University in Indiana where she received a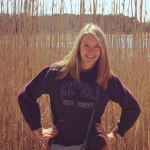 BS in Psychology and English. She moved to the Boston area to pursue dual master's degrees in Children's Literature and Library Science at Simmons College. During graduate school one of Megan's jobs was working as the Teen Librarian at Goodnow Library! Megan runs toddler storytime, leads dances at the weekly Music Makers program, and organizes lots of other exciting programs and services for children. When not working, Megan loves hiking, camping, reading, watching movies, and spending time with her dog (who lives in Wisconsin), her cat (who lives with her), and her husband Colin. Stop by the Children's Department to say hello to Megan and the rest of our amazing staff!