Teen Summer Reading 2016
Read a Book . . . Win a Prize?!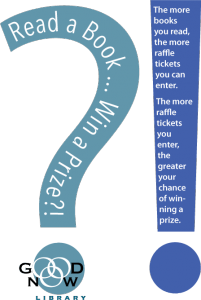 Read a book.
Fill out a book review, which is also a raffle ticket.
Leave the ticket with us and wait for the prizes to roll in.
Actually, leave the ticket with us, and hopeHopeHOPE your name gets chosen during our weekly raffle for a $10 gift card! (think Dunkin' Donuts, Amazon, iTunes, etc.). That's right, someone will win a prize every week this summer!
Keep those fingers crossed and hope that your name is chosen for one of three end-of-summer Grand Prizes! (Please note: these prizes are completely more awesome than our weekly prizes.
The more books you read, the more raffle tickets you can enter. The more raffle tickets you enter, the greater your chance of winning a prize!
Teen Summer Events
STEAM Challenges, Book Groups, Teens Only Tuesdays, Snark Attack Movie Nights . . . keep an eye on our calendar for all the fun things happening at Goodnow this summer.