The Town of Sudbury's Commission on Disability, the Goodnow Library, and the Sudbury Cooperative Preschool's Justice, Equity, Diversity, and Inclusion Initiative, present "Understanding Differences: A Look at Disability." This slate of programs aims to educate youth, educators, guardians, grandparents, and extended family members on how to be an ally for people with disabilities. Programming will be offered throughout the month of October to celebrate Disability Awareness Month.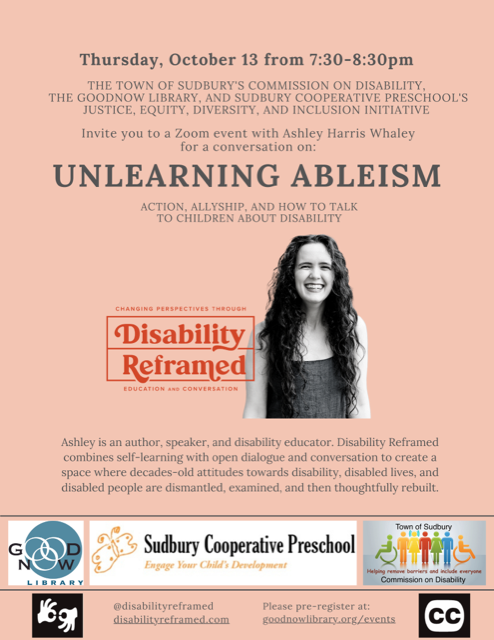 "Unlearning Ableism: Action Allyship, & How to Talk to Children about Disability"
Thursday, October 13, 7:30-8:30PM
Virtual Event on Zoom
You are invited to attend a Zoom event with Ashley Harris Whaley from Disability Reframed for a conversation on "Unlearning Ableism: Action, Allyship, and How to Talk to Children about Disability." It is a wonderful opportunity for parents/guardians, grandparents, educators and allies of the disability community to come together to learn and ask questions. Ashley is an author, speaker, and disability educator. Disability Reframed combines self-learning with open dialogue and conversation to create a space where decades-old attitudes towards disability, disabled lives, and disabled people are dismantled, examined, and then thoughtful rebuilt. Closed Captioning will be provided as well as an American Sign Language interpreter during the event. Please click HERE to register for the zoom link.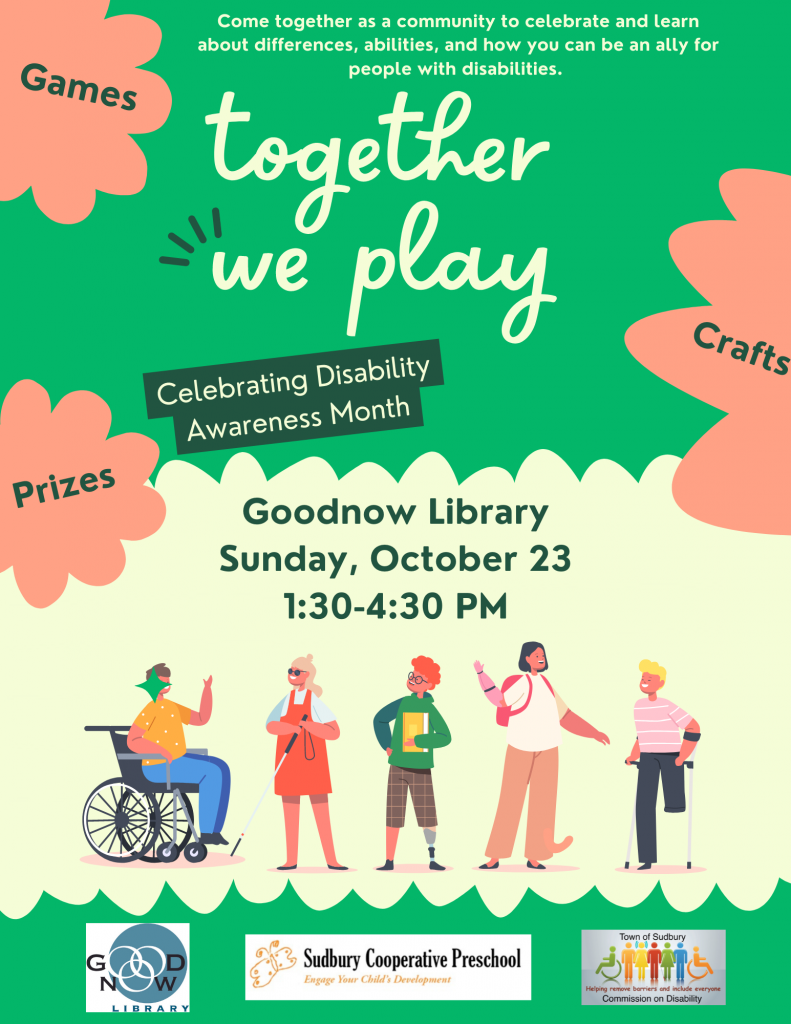 Together We Play: Celebrating Disability Awareness Month
Sunday, October 23 1:30-4:30 PM
In-person event at Goodnow Library
All are invited to come together to celebrate and learn about differences, abilities, and how to be an ally for people with disabilities.
Authors Jake Marrazzo and Lotte Diomede will read their books followed by activities led by Understanding Our Differences, a nationally recognized, award-winning program that uses a hands-on curriculum to foster acceptance and inclusion for people of all abilities. Viking Martial Arts will also lead a class.
In addition, families can participate in a scavenger hunt of activities including an adaptive bike zoo, crafts, and learning around the library led by:
When a child completes the scavenger hunt, their name will be entered to win a $100 gift card at Learning Express Toys and Gifts, a gift card to New City Microcreamery, and books about equity and inclusion.
Open to all ages, but activities are geared towards children who are 18 months old to 12 years old with their families.
This event is part of the "Understanding Differences: A Look at Disability" series. A sensory space/calm down room will be available for families during this event. You can also download a social story by clicking HERE.
If you have any questions about accommodations, please email us at [email protected]