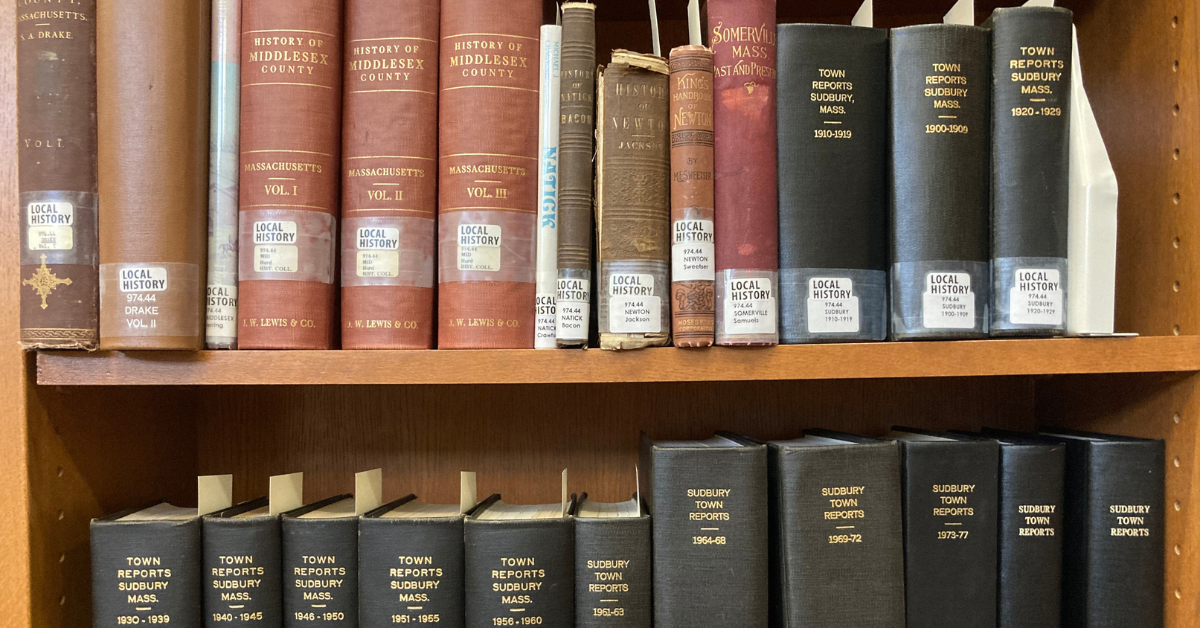 Researching local history and genealogy is an exciting way to learn about the place we call home and who we call family.
The intent of the Goodnow Library's Local History Collection is to preserve, collect, describe, exhibit, and make publicly accessible materials that document the history of Sudbury and its inhabitants.
The Local History Room is located on the second floor of the library. Please visit the reference desk for assistance.
The library's historical collections are available to the general public for research involving local, genealogical and/or historical issues. Reference staff is available to assist users with questions.
For those who need assistance with in-depth research, please contact the reference staff to schedule an appointment by calling 978-440-5520 or emailing us at [email protected].
---
Library Resources
Materials Include:
Original Goodnow Library Collection (remaining volumes date from 1863-1900);
Town documents: town meeting records and reports (1644 – ), tax records, valuation reports, List of Persons;
Books, photographs and artifacts relevant to Sudbury history and genealogy,
The Dyad: the Lincoln-Sudbury Regional High School Yearbook (1957 – );
Maps and atlases;
Family and town histories;
The Vertical File: News clippings, pamphlets, article reprints, and other materials relating to persons, places, organizations, events, and subjects relevant to Sudbury; and
Local newspapers on microfilm and online.
Archives Include:
George Barton Collection
Goodnow Family Collection
Israel Loring Papers
Gilbert, John Robert and Mary F. Parmenter Collection
Edmund Rice Collection
---
E-Resources:
---
Additional Resources:
Subscription E-resources
Ancestry.com (In-library use only)

Premium collection of worldwide genealogy records.

HeritageQuest (In-library use, remote use for Sudbury/Goodnow Library cardholders only)

Census data and documents for genealogy research.
Massachusetts History & Genealogy: